Rabbit & Pocket Pet Education
Educating families regarding proper pet care for over 15 years!
Located in Orange County, Southern California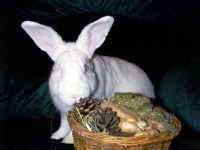 This is Pops. He was our one eyed mascot until he crossed the bridge. Click on his picture to read his touching story.
We no longer rescue or foster pets UNLESS adopted from us. If you adopted from us or through us, we have space for these pets to come back, please email us at adopted@rabbitadoption.org so that we can assist in taking these pets back into the rescue! We remain committed to the pets who were rescued from us for their entire lives. We are not taking other pets at this time.
Looking for a new home for your small pet or rabbit? Please, click here to read this first! It has important information you need to know about placing your pet in a new home. Please read this article before e-mailing the volunteers.
Why the name Rabbit & Pocket Pet Education?
First, let us explain that we use the phrase "pocket pet" in a caring way.
When we say Pocket Pets, we are not implying that they are toys, disposable or unworthy pets.
Hamsters, rats, mice, guinea pigs, rabbits, and chinchillas are not play things. They are living beings who deserve as much care as larger pets. They are not throw away pets, or impulse buys or "great first pets for kids". They are not designed to be "stuffed in your pocket". The phrase pocket pets is used now in our name instead of "Rabbit & Small Animal Adoptions" because too many people think the phrase small animal means any animal other than farm animals or horses. Adopters were confused and were calling or emailing to find dogs, cats, and birds. Changing the name has helped to change the perception of the types of companion pets we have for adoption.
Good homes are far and few between. Only when a rabbit or small pet is adopted into a forever home, can another be rescued and brought into one of the foster homes. Rescuers get far more requests asking us to take in unwanted pets than requests from people seeking adoptable pets. Because of this, rescues are unable to take in most of the pets they are asked to help. Pets in high kill animal shelters get top priority when space opens!
How many pets are we get asked to help in 2011? Click here to find out! (2011 was the last year of active rescue.)
After the volunteers at Rabbit and Pocket Pets quickly realized that we could not personally save all or even a good portion of the unwanted pets, we decided that our main goal was going to be to help the pets and their owners live quality lives together through education and guidance so that there would be less unwanted pets. Rabbits and pocket pets are often unwanted because their owners become overwhelmed or don't know how to solve behavior problems.
Some of the ways we can help small pets is by educating people on proper care via phone and e-mail, assisting people with finding experienced veterinarians, helping trouble shoot behavior problems, and by giving basic training advice so that pets and people can live together happily.
Though this website currently focuses mainly on rabbit links, we are available to help advise people on how to properly care for or safely re-home other small animals including hamsters, mice, rats and guinea pigs. In the future, we will be adding more links to small animal websites that give proper care advice, small pets for adoption, etc.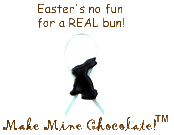 ---
Website last updated August 16, 2016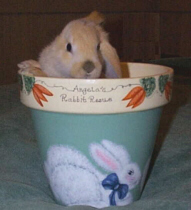 Website created and maintained by Webmistress Angela Carrigan
Copyright 1994-2011
No images or written material on this website may be used for any reason without prior written permission of Angela Carrigan, the website owner. You must ask permission before taking any written information you find here on this website, including our "unwanted stats". Please ask before using my images and photos for any reason. You may link directly to this website but you may not copy it to your own website without permission.
If you intend to use any material found on external website links or banners, you are responsible for obtaining their permission before doing so. Banners are property of the company or agency the banner is affiliated with. Click on the banner to get more information or to ask permission to use it. Please respect the copyrights, don't be a web thief, it makes all of us look bad!